This is a great example of working together for the common good!
WASHINGTON — Congress has a window of opportunity to approve common-sense immigration reform and should act, faith leaders agreed in a meeting with President Obama. Obama and the faith leaders, not always allies, found common ground in immigration reform and the need for it to come from Congress rather than the White House.  "In many ways we sometimes disagree, but on this matter, common-sense immigration reform, we all agree. We hope the gospel principles of faith, hope and charity will apply to any solution."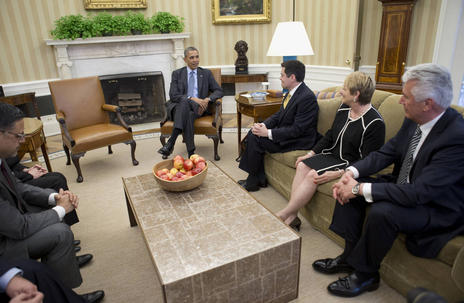 "For the first time we have in this country the entire religious community — Muslim, Jewish, Christian, Baha'i — all the major denominations and churches and religious bodies of this country believe that it is a moral imperative that we get immigration reform done," the Rev. Luis Cortes, president of Esperanza, a nonprofit law office and Hispanic Christian network serving immigrants.
"It is the first and only political issue in this country where we all agree."