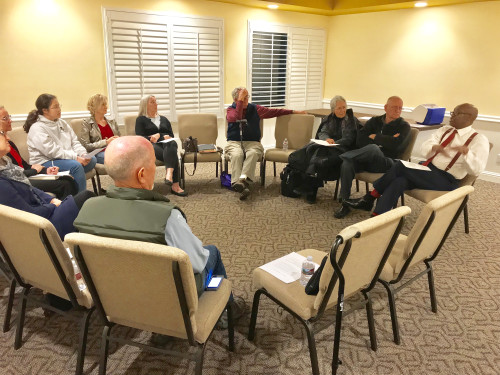 Conversations on Racial Healing is a series of nine meetings to learn about and to discuss racism and racial bias.  The series is designed to provide information on several topics related to race relations and to offer a safe place to voluntarily share your experiences regarding racism.  The goals are:
to educate the mind with new facts and research about types of racism
to examine life experiences and share from your heart
to build relationships with other groups so we can support each other's efforts to accept others without prejudice
Background
Placer County estimates that in the next ten years, the white population of the county will decrease from 73.1% to 70.1 %.  Projections show that Placer County's Asian & Pacific Islander ethnic group will experience the highest growth rate (approximately 26 percent growth) from 2012 to 2022, while the Hispanic ethnic group will grow approximately 24%.  See pages 14-17 of the Placer County Economic and Demographic Profile 2014:
http://www.placer.ca.gov/~/media/ceo/ecd/currentedp/2014%20Placer%20County%20Profile.pdf
How can we adjust to the new neighbors among us?
How can we welcome new people here, make them feel comfortable and make new friends?
What words and actions can we avoid that might offend or hurt people of color (we are all people of color)?
You may be thinking "I'm not racist so this change doesn't concern me."  But what about covert or unconscious racism?  You know, the stereotypes that we have grown up with and that we see in the media?  The assumptions we make about people of color before we even speak with them.  How many people of color can we count as friends or even acquaintances?
We know we were not born with the tendency to mistrust people.  How have we been "infected" over time by the disease of racism?
We invite you to join us for conversations about racial healing.  Over time, we will learn about, explore and discuss things like:
the history of American slavery and racism
the history of people of color in Placer County: why did they settle here? what were their hopes for the future?
how our institutions — our schools, our faith groups, our health and justice systems — may contribute to attitudes that exclude, patronize or minimize people of color
current studies that show the progress of people of color
what does current science say about the real or imagined differences among us?
how can we be a model of acceptance, respect and equality for other white people who sincerely want to live in harmony with people of color?
We'll learn together how to become allies and to stand with people of color when they are threatened or looked down on.  We will explore our own experiences of racism or prejudice in a supportive, non-confrontational environment.  We can unlearn the out-of-date stereotypes that still affect our words and behavior — so that we can all share the richness of the diversity among us!
Resources
Want to learn more?  We have compiled lists of books, videos and websites that examine the disease of racism and how we can heal from its effects – CLICK HERE